Bernie Zuber • 1933-2005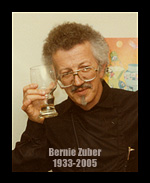 A long-time friend of mine, Bernie Zuber, passed away last Friday, October 14th, at 2:15 P.M. at Arcadia Methodist Hospital. He was the co-author of
The Tolkien Quiz Book
and one of the premier experts on Tolkien long before the Peter Jackson movies and even before the Hildebrant Brothers Del Rey editions of the 1970s.
He endured bipolar disorder but finally found the right mix of drugs to control it and even wrote about his
experiences
, becoming a local advocate for the mentally ill.
In the last few years, he started attending raves, becoming a bit of a celebrity: he told me kids would take a photo with him to prove that older people enjoyed their music, too. His gentle good humor and kind-heartedness endeared him to more than one young thing, such as
bathtubgirl
.
He was married for many years to
Teny
, and together they entertained a wide variety of Southern California fandom. I always enjoyed being in their presence because they had a sort of Nick and Nora Charles meets the Hobbits quality that I loved about them.
In the early 1980s, Bernie read a draft of my novel
Death's Dimensions
. Shortly after that, he was in a minor auto collision and for some reason his bipolar condition kicked in. He later told me that the novel had disturbed him at just the wrong point in his life. Happily, he was able to look back on the hell he'd been through with the
cest la vie
attitude of his French ancestors.
I'll miss him. Seventy-two is too young.
Labels: obituaries